Sacred Sanctuary: earth, wind, fire and water – an outdoor retreat day near Lympstone (Bookings Only)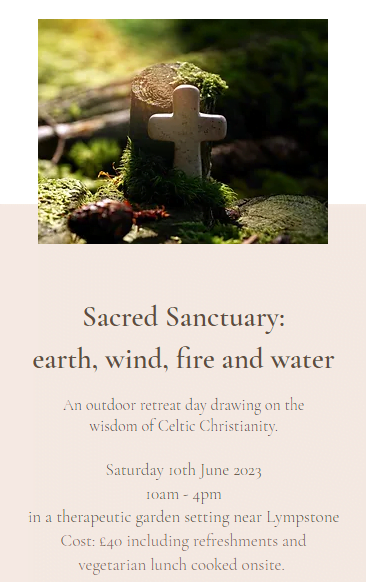 "It could be said that God's foot is so vast that this entire earth is but a field on His toe,
and all the forests in this world came from the same root of just a single hair of His.
What then is not a sanctuary?
Where can I not kneel and pray at a shrine made holy by His presence?"
St Catherine of Siena
This outdoor day retreat, inspired by the wisdom of Celtic Christianity, will give us opportunity to reflect on the connection with God's peace that we can find in nature and the world in which we live. We will spend time in meditation and contemplative prayer as a group as well as having moments for individual reflection and spiritual exercises informed by the four elements. Weather permitting, we will also venture down to the river Exe which is only a 5-10 minute walk from the site.
We will be using the fire and barbecues to prepare and share a vegetarian meal together in the middle of the day. 
Book a place today by following the organiser link