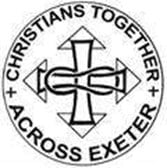 CTAX works together on joint ventures and events.
Objectives of CTAX
 a)To work together to deepen our commitment to Jesus Christ and his mission in Exeter.

(b) To encourage and enable our churches and fellowships not to do alone what they can more effectively do together.

(c) To provide opportunities for united prayer, united worship, united evangelism and united outreach.

(d) To foster better communication and dialogue between our churches and
fellowships, and to provide a forum for the exchange of information.

(e) To establish and maintain relationships with other Christian ecumenical 
groupings, communities of other faiths and local statutory and voluntary bodies in Exeter.

(f) To be a public voice for all the Christian churches and fellowships in the City.
More details of the work of CTAX click here