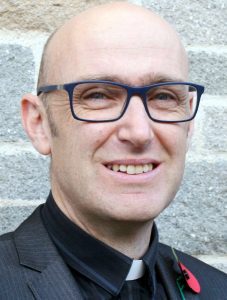 We are in the season of Easter and the image at the front of this magazine depicts one part of that message. It also formed the front cover of our Easter card that was distributed around our users. In response to the image I wrote, "Destruction juxtaposed with joy, suffering illumined by eternal light". We are a church whose grounding is in an event that was transformational to the early disciples. Despite the destruction of the cross, death was not the end, hope sprung again on Easter morning.
As this will be my last letter for the magazine I too have a mixture of sadness and joy. Each time you leave a church that has got under your skin you inevitably leave something of yourself when you move on. So in that sense you jettison a part of yourself in parting. Yet through the interactions that we have shared over the last six and a half years means that I have also received much from you lovely people. You have challenged me and changed me, and that is all good.
This church is blessed with many talented people. I have mentioned the diversity of talent regarding music, but that is the tip of the iceberg of what you have offered. I believe that the pantomime is a sign that the community of the Mint is a healthy one, where people who attend on Sunday and those that visit during the week come together to make laughter and fun together. However a church such as the Mint cannot run on songs and pantomimes, instead it is often the hard work of the committee's and office holders, so often unseen, that allows the church to function each day of the week. You have all been amazing and I feel blessed to have been a part of you over recent years.
Now though it feels a bit like I felt when the children left home. I wanted them to flourish and grow and to find their particular niche in life, but I couldn't get actively involved. That is also true for you as a church. Please continue to dream, to ponder and to try new initiatives. Equally if I can encourage you to continue listening to the communities that you are a part of. Our interaction with the community groups isn't to preach our knowledge, but together search for a truth that is beyond a one dimensional approach. I will continue to pray for you, and promise in due course I will be back, but out of respect for Brian, my interactions with you will be on hold for a year.
Blessings to you all and thanks for the journey.
Easter blessings for the coming weeks, seek out new life!
Steve