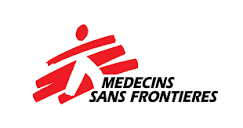  At the recent Hot Cross Buns event at Steve and Lorna's new home we raised £135
for Our Charity of the year -Médecins San Frontières.
Our Quiz on Friday March 31, is the next fundraising event for this.
 And then we also have a Treasure Hunt on Saturday April 22 around Broadclyst to
raise funds for the Charity. (see separate notice on next page)
We are hoping to have monthly fundraising events so please let us know if you want to
offer to run something.
Sue Cordery and Maureen Coleman
Saving lives in Somalia
Saving lives in Somalia Controlling vaccine-preventable diseases such as measles is a huge challenge in Somalia, due to low routine immunization coverage, population movement and the difficulties of reaching children who live in highly insecure areas or regions with poor roads and infrastructure, or who come from pastoralist families who move from place to place. Meanwhile, unvaccinated children from remote areas may spread the disease when they visit towns.
The southern Lower Juba region has no properly managed routine vaccination programme owing to its poor health system, so small-scale outbreaks are frequent. Most vulnerable are children under the age of five. "The communal nature of Somali people makes it even easier and faster for measles to spread within the population, making the disease highly prevalent in the Jubaland region," says Adan Abdi, MSF's medical advisor. "Overcrowding, insecurity, low vaccination coverage, are all factors that contribute to the spread of this disease. Measles is believed to be responsible for more child deaths than any other single microbe, due to complications from pneumonia, diarrhoea and malnutrition. Therefore, it is important to have a high vaccination coverage between people."
In May 2021, teams from Médecins Sans Frontières (MSF) supported Ministry of Health staff to run a month-long measles vaccination campaign in Dhobley, in Somalia's Lower Juba region. Teams vaccinated 7,859 children, aged from six months to 15 years, against the disease. Children were also given vitamin A supplements, while under-fives were checked for malnutrition; those who needed treatment were referred.