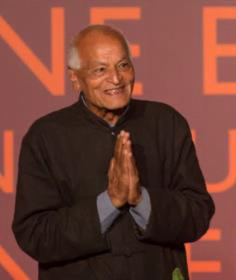 The Devon Faith and Belief Forum, which meets regularly at the Mint, will be holding its Annual Public Meeting at the MINT from 6.00 pm to 7.45 pm on Thursday 6th July, when Satish Kumar will speak on "Ecology and Spirituality" We are delighted to welcome Satish, who has a huge reputation across the environmental community, renowned for his deep insights and passionately spiritual approach to ecology. Peace-pilgrim, life-long activist, and former Jain monk, Satish Kumar has been inspiring global change for over 50 years. He undertook a pilgrimage for peace, walking for two years without money from India to America for the cause of nuclear disarmament. Satish is now in his 80s and living in North Devon. He has devoted his life to campaigning for ecological regeneration and social justice. He is a world-renowned author and international speaker, founder of The Resurgence Trust and Editor Emeritus of Resurgence & Ecologist – a change-making magazine he
edited for over 40 years.
"Nature is our teacher. We can learn forgiveness, generosity and equanimity from
Nature. Nature is our true nationality, the Planet Earth is our true home, cosmos is
our true country and love is our true religion. Ecology is as much about outer
conservation as it is about inner transformation. Inner ecology and outer ecology
dance together."

Satish Kumar
Admission to this event and refreshments are free of charge, but please book your
tickets in advance – through Eventbrite,
https://www.eventbrite.co.uk/e/ecology-and-spirituality-tickets-630592267447 ,
via the DFBF website https://devonfaiths.org.uk/ ,
or by contacting Andrew Sails at the Mint.