Mint Centre Users
Many more people use the Mint Centre during the week than on a Sunday, contributing to our overall environmental impact and carbon footprint. So with thanks to Lesley Mehigan (Church Centre Bookings
Secretary), the text below is now included in the "Supplementary Conditions of Use" document provided to organisations using the Centre.
Environmental Impact
The Mint Methodist Church is committed to reducing its carbon footprint and other
impacts on the environment. It is a member of the Eco Church scheme that supports
churches to embed creation care into all aspects of church life, including the way the
buildings are used and managed, and the lifestyles of church members.
Many organisations using the Mint Methodist Church Centre are already aiming to
reduce their environmental impact, and all Centre users are invited to do likewise by:
Turning lights off that aren't needed
Closing windows and doors when leaving a room
Taking rubbish away, or placing it in the appropriate bins (recycling or general
waste)
Using local, organic, animal-friendly and fairly-traded foodstuffs
Coming to the Centre using "low carbon" transport or on foot
Making suggestions on how the Centre can further reduce its environmental impact.
Adapting to Climate Change
Much effort is rightly put into mitigation of climate change, by preventing or reducing emissions of greenhouse gases. But climate change is already happening, so adaptation is also important. The Devon, Cornwall, and Isles of Scilly (DCIoS) Climate Impacts Group (CIG), currently chaired by the Environment Agency, was formed in 2019, and recently published a draft DCIoS Adaptation Strategy. It looks at the risks and opportunities of climate change for different sectors and themes, such as health, water, biodiversity, agriculture, tourism, etc. It also proposes strategic actions and recommendations to increase the ability of the region to adapt to these. Some of the topics it has been considering are: River and surface water flooding; Sea level rise (coastal flooding and erosion); Reduced water availability (drought conditions); and Temperature change and extreme heat/cold. Consultations included a survey which groups and individuals were encouraged to fill in and a few of us from the Mint did so. The strategy includes an action plan setting out priorities for regional collaboration over the next five years, as well as short-term actions for policymakers and local government, businesses, infrastructure operators, charities, community groups and individual households. Some suggestions the strategy puts forward for how householders can help adapt to climate change are:
Installing a water butt to increase storage of rainwater
Increasing your house's resilience to flooding
Checking your insurance levels and limitations especially if changing policy holders
Switching to more water efficient appliances when replacing them
Looking at water fittings to reduce water use
Adding solar shading to the south façade of buildings
Increasing the capacity of water pipes
Maintaining where you live especially roofs
Use porous materials when you replace driveways or paths.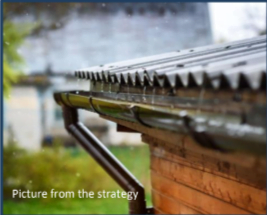 If you want to read more, see the quick reads section of the strategy website:
https://www.climateresilient-dcios.org.uk/view-adaptation-strategy
Sue Cordery